19.07.2007, 22:29:34 (This post was last modified: 19.07.2007, 22:33:28 by El D34dlyto.)
In the last couple of weeks, the mods hosted at
Freedom Studios
have posted a lot of updates and quite a lot of eye candy.
First off,
Rly_BiG_Tank
has posted some very detailed unit listing for two of the factions in his mod,
C&C: Line of Fire
- the
Eurasian Union
and
The Corporation
. The third faction in this TC is the
Atlantic Coalition
, which has not yet been worked on.
And here are some mean tanks for you to bask in:
The Corporation ground vehicles
E40 Heavy Weapons Platform
B12 Main Battle Tank
Eurasian Union ground vehicles
Hammer
Master
Cobra
Battlefield Command Unit
For more updates for
C&C: Line of Fire
, visit
it's forum
.
Another Total Conversion mod,
X-com: Terror from the Deep
led by tallented 3D artist
DonutArnold
shows it's first
Dev. blog
. Here are some of the updates shown:
The mighty and formidable X-com Coelacanth tank - render and
cameo
The evil Aliens now have walls to protect themselves from human forces!
[/center]
For some more renders, as well as some explanations on the mod itself, visit
X-com: TFTD's

forums
.
YR: Incursion
is a mod, led by
Modder666
, which aims to change YR into a more likeable form, adding new units, tactics and superweapons to the existing sides. It also brings some units from the Westwood concept boards such as this one - Yuri's Sonic tank:
Voxel by

SaneDisription
Enough YR modding for one day, let's head to the TS mods!
TS: Lost Relic
is a new TC mod, led by
VEFBl4
. The goals of the mod are to change everything from Tiberian Sun - from graphics to music, but keep the dark and apocalyptic feeling, while making things more realictic size-wize and weaponry-wize. As you can see, so far
VEFbl4
is doing the job awesome:
Some of Nod's new units, posing on the infested red soil
The new sandy terrain tile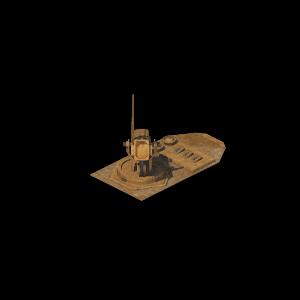 G.D.I.'s new Railgun cannon
And last, but not least - another TC mod for TS -
Tiberian Glory: Twighlight World
is aiming to show us the new tiberian future, following the Firestorm campaign events. The mod is led by
Yuri o07
with assistance from
DonutArnold
(see above) and
Mikey-P
(a video and cut-scene maker). After some time of inactivity, the mod return to full speed and they already ahve two brand new voxels to show:
Nod Recon Buggy
Nod Recon Bike